Tech Field Day is a series of invite-only technical meetings between influencers and sponsoring enterprise IT companies. We refer to influencers as delegates and invite them from around the world. Companies share their products and innovations through presentations, demos, roundtables, and more. Over 2-3 days, a panel of a dozen delegates interact with 6-10 companies on-site in areas like Silicon Valley. These sessions are live-streamed and recordings are shared across our social media channels like YouTube and Twitter. Our events focus on enterprise IT topics from the datacenter to the cloud, mobility and networking to security and storage.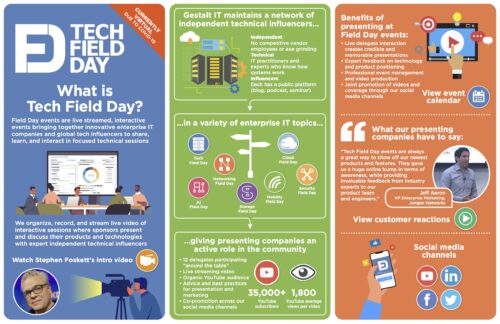 Field Day Topics
Gestalt IT focuses on enterprise IT, and our Field Day events reflect this. Our events are designed to be broad enough to attract a variety of companies but focused enough to deliver real engagement with our technical audience.
Each topic has its own Tech Field Day event twice a year, complete with a panel of delegates and roster of presenters focused on that topic. And each Tech Field Day event has its own audience and following around the world!
Field Day Formats
Field Day events are invite-only meetings with a single presenting company and a group of delegates selected by Gestalt IT.
Why Sponsor and Present?
Create relevant marketing assets to attract and retain your target audience and ultimately drive sales
Inspire earned coverage from respected independent voices with valuable social media channels
Engage in a dialogue with technical experts to get honest feedback
Contact Us
To get involved, email [email protected]
Stay Connected
Sign up for our mailing list to stay connected with Tech Field Day events! We will send updates no more than once per week listing upcoming events, news about presenting companies and delegates, details on video recordings, and more. We promise never to include ads or spam!