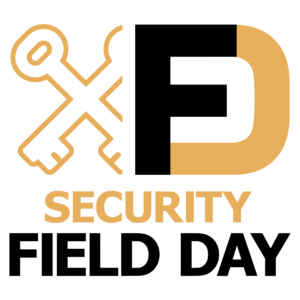 Unlike trade shows, conferences, or other events in the enterprise security space Security Field Day is a uniquely focused event, featuring up to 6 presenting companies, and 12 independent thought leaders. The conversations and discussions that happen at Security Field Day are in-depth and highly technical.
Security Field Day is an in-person, and live-streaming event that is held twice per year. We bring together the best independent thought leaders and companies within the security space to discuss advancing technology and core issues surrounding security in the enterprise IT space.
The event is held as a presentation, but also as an open discussion between our panel of delegates and the presenters. Allowing the audience outside the room to hear important questions asked and answered in real time by leading professionals in the industry via streaming video and interaction on social media platforms.
Presenting Sponsors
Security Field Day Events
Date: April 10–11, 2024, Hybrid
Presenters: TBD
Delegates: TBD
Date: February 6–7, 2024, Amsterdam
Presenters: TBD
Delegates: TBD
Date: November 8–9, 2023, Virtual
Presenters: Druva, Forward Networks
Delegates: Ben Story, Brian Knudtson, Chris Hayner, Dominik Pickhardt, Enrico Sorge, Evan Mintzer, Girard Kavelines, Jasper Bongertz, Kerstin Mende-Stief, Matt Tyrer, Richard Kenyan, Tony Efantis, Ziv Levy
Date: June 28–29, 2023, Hybrid, Silicon Valley
Presenters: Cisco, Commvault, Cribl, HashiCorp, NetAlly, Noname Security
Delegates: Alex Neihaus, Bruno Wollmann, Chris Hayner, Ed Weadon, Ethan Banks, Karen Lopez, Lars Trøen, Michael Davis, Roy Chua, Steve Puluka, Tom Hollingsworth
Date: November 16–18, 2022, Hybrid, Silicon Valley
Presenters: Cribl, Fortinet, HashiCorp, Micron, Swimlane
Delegates: Brian Knudtson, Carl Fugate, Deirra Footman, Evan Mintzer, Jasper Bongertz, Jody Lemoine, John Kilpatrick, Jon Myer, Michael Davis, Tony Efantis, Vince Schuele
Date: March 23–25, 2022, Hybrid, Silicon Valley
Presenters: Arista, Juniper Networks, Keeper, Microsoft Security, Progress, RackTop Systems, Rubrik, ZPE Systems
Delegates: Chris Grundemann, Chris Hayner, Dominik Pickhardt, Evan Mintzer, Girard Kavelines, Jennifer Minella, Jody Lemoine, Michael Davis, Pieter-Jan Nefkens, Rob Coote, Steve Puluka, Zoë Rose
Date: October 20–22, 2021, Virtual
Presenters: Betacom, Cisco, EfficientIP, Intel, Juniper Networks, Swimlane, Versa Networks
Delegates: Ben Mason, Bruno Wollmann, Edward Haletky, Jasper Bongertz, Justin Warren, Karen Lopez, Kerstin Mende-Stief, Mikael Korsgaard Jensen, Rati Jokhadze, Remington Loose, Scott Driver, Tony Efantis
Date: March 23–25, 2021, Virtual
Presenters: EfficientIP, HashiCorp, Juniper Networks, Kemp, VMware
Delegates: Al Rasheed, Arjan Timmerman, Avril Salter, Becky Elliott, Ben Story, Dominik Pickhardt, Evan Mintzer, Jasper Bongertz, Kori Younger, Michael Davis, Rob Coote, Robert Novak
Date: October 21–21, 2020, Virtual
Presenters: Cisco
Delegates: Ben Mason, Christopher Kusek, Drew Conry-Murray, Ed Horley, Estelle Auberix, Jarett Kulm, Jens Soeldner, Michael Davis, Pieter-Jan Nefkens, Scott Bollinger, Snehal Patel
Date: May 13–15, 2020, Virtual
Presenters: Juniper Networks, PathSolutions, Tempered, VMware
Delegates: Becky Elliott, Ben Mason, Chris Grundemann, Christopher Kusek, Dominik Pickhardt, Drew Conry-Murray, Jasper Bongertz, Justin Warren, Pieter-Jan Nefkens, Rob Coote, Tony Bradley, Zoë Rose
Date: June 19–21, 2019, Silicon Valley
Presenters: Banyan, Edgewise Networks, ExtraHop Networks, Guardicore, Illumio, Palo Alto Networks, VMware
Delegates: Andrew Mauro, Blake Krone, Edward Haletky, Evan Mintzer, Jasper Bongertz, Jody Lemoine, Michael Davis, Nate Avery, Shaun Bender, Stephanie Ihezukwu, Tricia Howard, Zoë Rose
Date: June 10–14, 2019, San Diego
Presenters: Cisco, NetBeez, Opengear, VIAVI Solutions
Delegates: Aaron Conaway, Amy Arnold, Brandon Mangold, Brian Gleason, Bruno Wollmann, Darrel Clute, Eric Stover, Jody Lemoine, John Herbert, Jonathan Davis, Jordan Martin, Matthew Leib, Nico Stein, Phil Gervasi, Richard McIntosh, Rob Coote, Rowell Dionicio, Sam Clements, Santino Rizzo, Scott McDermott, Teren Bryson
Date: December 12–14, 2018, Silicon Valley
Presenters: Aporeto, Aruba, Cisco, CyberArk, VMware
Delegates: Chris Grundemann, Christopher Kusek, Enrico Sorge, Ethan Banks, J Wolfgang Goerlich, Jeff Wilson, Jerry Gamblin, Kori Younger, Paul Snyder, Robert Boardman, Rowell Dionicio, Zoë Rose
Date: April 7–9, 2014, Orlando
Presenters: InfoSec World
Delegates: Brandon Carroll, Edward Haletky, Jack Daniel, Natalie Timms