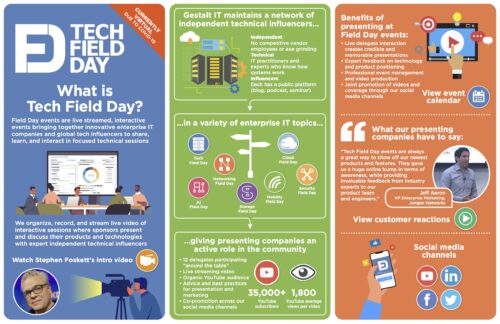 Presentation Opportunity
Thank you for your interest in the Tech Field Day events!
Tech Field Day was created in 2009 to bring together innovative IT product vendors and independent thought leaders to share information and opinions in a presentation and discussion format. Since then, the event series has evolved to produce over one hundred events. In additional to the classic Tech Field Day, we now produce events focusing on specific enterprise verticals, including Cloud, Mobility, Networking, Security, and Storage.
Our daily schedule is divided equally into 2-hour presentation slots, with each slot dedicated to a single presenting sponsor. The total Field Day budget and cost is divided equally as well.
Sponsor a Field Day Event
Please use the following form to let us know you're interested in sponsoring a Field Day event.
Feel free to contact Stephen Foskett with any questions or comments: [email protected], +1(508)451-9532