| | |
| --- | --- |
| | Bernd Bandemer presented at AI Field Day 1 |

This Presentation date is November 18, 2020 at 11:00-13:00.

Presenters: Ash Chowdappa, Bernd Bandemer, Fouad Zreik, Jose Tellado, Partha Narasimhan, Sriram Venkiteswaran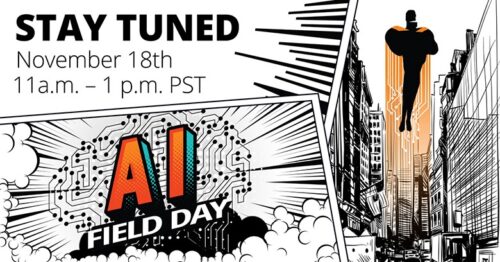 Visit Aruba's AI Field Day 1 Landing Page
Focus areas include:
Why dynamic baselining
Site specific Insights and remediation
How peer network comparisons change the game from purely problem solving to continuous learning and performance optimization
View demonstrations regarding the use of natural language search, identifying and fixing Wi-Fi coverage holes areas, and advanced remediation techniques.

Watch on YouTube
Watch on Vimeo
In this interactive discussion, Ash Chowdappa, SVP & GM, Engineering, presents the Aruba vision for AIOps. The discussion focuses on how Aruba ESP and AIOps spans the entire Aruba portfolio, from wireless to switching, WAN, security, and User Experience Insight, for greater IT efficiency.
Personnel: Ash Chowdappa, Partha Narasimhan

Watch on YouTube
Watch on Vimeo
Jose Tellado, AIOps Chief Technologist, PhD, and HPE Fellow, gives an in-depth look at the importance of usable data, models and training, dynamic baselines for customer specific Wi-Fi/WAN/switch problem solving, and optimization guidance via peer comparisons.
Personnel: Jose Tellado, Partha Narasimhan

Watch on YouTube
Watch on Vimeo
Sri Venkiteswaram, Director, Product Management, Aruba Central, gives an overview of how AI Insights in Aruba Central is evolving and how IT has improved their ability to quickly resolve issues related to user specific issues, outdoor clients, transmit power mismatches, WAN gateway issues, and wireless coverage holes. This presentation includes a demonstration of Aruba Central.
Personnel: Partha Narasimhan, Sri Ventkiteswaran

Watch on YouTube
Watch on Vimeo
Fouad Zreik, UXI Product Management, gives a view into how Aruba uses AI to tame the alert fatigue and user experience issues related to site specific web and cloud applications. The presentation includes a look at the UXI interface and discussion regarding the benefits of dynamic thresholds.
Personnel: Fouad Zreik

Watch on YouTube
Watch on Vimeo
In this interactive session, Bernd Bandemer, Director, Data Science, discusses what AI brings in the future, where Aruba is focused, and what value their customer's IT teams and user community can expect.
Personnel: Bernd Bandemer