| | |
| --- | --- |
| | David Ngo Presented at Tech Field Day 22 |

This Presentation date is December 9, 2020 at 05:00-07:00.

Presenters: David Ngo, Don Foster, Geeta Vaghela, Janet Giesen, Jeff Harbert, Mathew Ericson, Rahul Pawar
Delegate Panel: Arjan Timmerman, Bart Heungens, Bruno Wollmann, Jasper Bongertz, Kori Younger, Lino Telera, Max Mortillaro, Michael Davis, Ned Bellavance, Rob Koper, Steven Cortez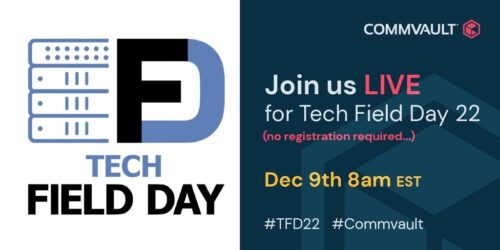 Watch on YouTube
Watch on Vimeo
Don Foster, Global VP, Sales Engineering, introduces the new Commvault in 2020. Commvault has responded to multi-cloud, cloud-native, automation, DevOps, and changing IT economics to build an intelligent data management portfolio. The goal is to provide data awareness, agility, and automation through Commvault products, from backup & recovery and disaster recovery to file storage optimization, data governance, eDiscovery and compliance, and multi-protocol storage both on-premises and as SaaS.
Personnel: Don Foster

Watch on YouTube
Watch on Vimeo
Rahul Pawar, VP, Product Management, introduces the expanded Commvault portfolio of disaster recovery products. Disaster Recovery is a new product in the Commvault portfolio, providing a simple, flexible, powerful, scalable, and intelligent disaster recovery solution for businesses. It addresses the modern hybrid and multi-cloud enterprise, supporting common platforms like VMware and clouds like Azure, AWS, and GCP. Pawar then demonstrates the product and takes questions from the Tech Field Day delegates.
Personnel: Rahul Pawar

Watch on YouTube
Watch on Vimeo
Jeff Harbert, Director, Technical Services Programs, presents Commvault's recovery readiness solutions. Recovering from a catastrophic data loss or data-compromising event requires a plan, and Commvault's Readiness Solutions help prepare companies to return to operations. Harbert discusses Commvault's readiness approach and takes questions from the Tech Field Day delegates.
Personnel: Jeff Harbert

Watch on YouTube
Watch on Vimeo
Janet Giesen, VP, Operations & Programs, and David Ngo, CTO, introduce Metallic, a Commvault Venture. One year after introducing Metallic, Commvault is seeing customer adoption and accolades for the backup as a service product. Metallic is now available in 14 countries and has been expanded from core backup and recovery, Microsoft Office 365 data protection, and endpoint backup and recovery, to include VM and Kubernetes backup, database backup, file & object backup, and eDiscovery as well as a cloud storage service for Commvault customers. Ngo demonstrates Metallic Cloud Storage Services (MCSS), which provides a managed cloud storage solution in Microsoft Azure, and discusses how the Metallic as-a-service offerings work with the Tech Field Day delegates.
Personnel: David Ngo, Janet Giesen

Watch on YouTube
Watch on Vimeo
Mathew Ericson, Senior Product Manager, discusses Commvault's data protection offerings for Kubernetes. The adoption of containers presents new challenges for data management, and Commvault is addressing these with Hedvig distributed storage, Metallic backup, and Commvault Complete data protection. Commvault protects all Kubernetes data, from Dockerfile manifests and source code to the container registry to data on persistent volumes and object stores. Ericson then discusses data protection with the Tech Field Day delegates, presenting a reference architecture and demonstrating the solution in action.
Personnel: Mathew Ericson

Watch on YouTube
Watch on Vimeo
Geeta Vaghela, Senior Director, Products, presents Commvault HyperScale X powered by Hedvig. Data is siloed in infrastructure silos, and Hedvig for HyperScale X is designed to solve this with performance, scalability, and resilience. Vaghela then demonstrates the HSX product, backing up a virtual machine and simulating a node failure.
Personnel: Geeta Vaghela