This Presentation date is April 8, 2022 at 8:00-9:30.

Presenters: Allison Goodman, Andy Rudoff, Chris Petersen, Ehsan Ardestani, Greg Scott, Kapil Karkra, Kristie Mann, Manoj Wadekar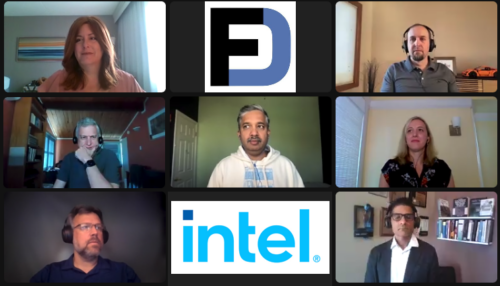 Watch on YouTube
Watch on Vimeo
Data center memory and storage are evolving driven by explosive data growth, evolving workloads and infrastructure requirements. Intel Optane technology is leading the way for the future of data tiering. In this session, Kristie Mann will cover Optane's long-term roadmap and innovation for Compute Express Link (CXL), an industry-supported open standard interconnect architecture which brings promise of improved I/O, memory bandwidth and shared system resources across PCIe infrastructure. Andy Rudoff and Allison Goodman cover CXL usage models and persistent memory programming model and workloads optimizations done today that will carry forward to CXL. Presented by Kristie Mann, VP, Optane Product Management, Allison Goodman, Senior Principal Engineer, Solution Architect, and Andy Rudoff, Senior Principal Engineer, Software Architect, Intel.
Personnel: Allison Goodman, Andy Rudoff, Kristie Mann

Watch on YouTube
Watch on Vimeo
Complexity of AI workloads scales rapidly and entails faster scaling of memory requirement than scaling of the memory technology. In this talk, we break down the memory requirement for recommendation models, as one of the main drivers of AI platforms, and make the case for a new tier of memory, optimized for capacity, to help cope with workload scaling. Using Intel Optane SSD with software-defined memory sales power and allows for a simpler serving paradigm. While the talk argues that CXL-attached memory is a viable solution, as a precursor, it presents empirical results of leveraging additional memory tier using currently available NVMe-attached Storage Class memory. Presented by Manoj Wadekar, Hardware Systems Technologist at Facebook, Ehsan Ardestani, Research Scientist and Technical Lead Manager, Meta, and Chris Petersen, Hardware Systems Technologist, Intel.
Personnel: Chris Petersen, Ehsan Ardestani, Manoj Wadekar

Watch on YouTube
Watch on Vimeo
Cloud service providers are pushing the boundaries of storage capacities to meet the performance requirements of big data workloads and expanding data volumes. Intel and AliCloud collaborated on Cloud Storage Acceleration Layer (CSAL) to address NAND density and scale challenges. CSAL uses Intel Optane SSDs to improve system performance while reducing costs scaling QLC NAND value. In this presentation, we will show and analyze the real world I/O behaviors from big data services of Alibaba Cloud to demonstrate predictable performance using CSAL. Presented by Greg Scott, Director of Storage Software Products, and Kapil Karkra, Principal Engineer, Storage Software Pathfinding and Architecture, Intel.
Personnel: Greg Scott, Kapil Karkra