| | |
| --- | --- |
| | Chris Erway presents at Cloud Field Day 7 |

This Presentation date is April 24, 2020 at 8:00-10:00.

Presenters: Adam Hert, Chris Erway, Jim Hansen
Designed for hybrid and cloud-native IT environments, the SolarWinds application performance management (APM) products come together to help identify performance anomalies, understand dependencies, trace requests, and pinpoint the root cause of issues. With a shared agent and common trace ID, you can isolate logs to a specific transaction, identify impacted systems, and view events in context to accelerate troubleshooting and recognize issues before there is a service disruption. Pingdom®, AppOptics™, and Loggly® can be used individually or as an integrated APM suite to deliver full-stack performance monitoring across user experience, applications, services, and infrastructure.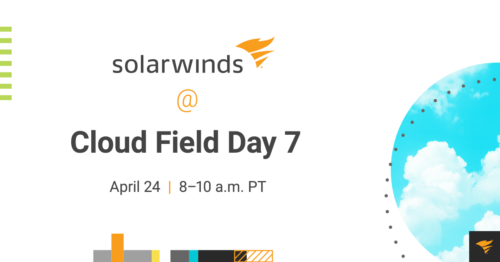 Follow on Twitter using the following hashtags or usernames: @SolarWinds




Watch on YouTube
Watch on Vimeo
How does SolarWinds fit into the APM market, and how does its APM suite of products help IT organizations monitor and manage the lifecycle performance of their software applications? This presentation takes viewers through the SolarWinds APM suite, made up of Pingdom, AppOptics,and Loggly, to combine user experience monitoring with custom metrics, distributed tracing, log analytics, and log management to provide unmatched visibility into custom applications.
Personnel: Jim Hansen

Watch on YouTube
Watch on Vimeo
How do monitoring, observability, distributed tracing, and APM all fit together? This talk presents a recent history of the monitoring and observability ecosystem, explaining how metrics, logs, and traces come together to provide a complete picture of application performance. It explains recent efforts to standardize common telemetry instrumentation APIs like OpenTracing, OpenCensus, and OpenTelemetry. Finally, it shows how SolarWinds AppOptics offers automatic metrics, logging, and distributed tracing instrumentation without any code modification for eight languages.
Personnel: Chris Erway

Watch on YouTube
Watch on Vimeo
How exactly does the SolarWinds application monitoring and management suite of products work? This talk takes viewers through a live demo of the SolarWinds APM suite: showcasing how to reduce downtime, performance tuning applications, and monitoring application performance in Kubernetes, all with SolarWinds APM suite of products: Pingdom, AppOptics,and Loggly.
Personnel: Adam Hert

Watch on YouTube
Watch on Vimeo
Application performance tuning doesn't have to be complicated. Learn how to use SolarWinds® AppOptics™ to improve the performance of your applications running in Kubernetes. Get insight into how well your service is responding, the application load time, and underlying infrastructure.
Personnel: Adam Hert