| | |
| --- | --- |
| | Pete Kirkpatrick Presents at Storage Field Day Exclusive at Pure Accelerate 2019 |

This Presentation date is September 16, 2019 at 10:00-14:00.

Presenters: Kunal Kapoor, Mayank Bhatnagar, Naveen Neelakantam, Pete Kirkpatrick, Steve McQuerry, Van Phan
Delegate Panel: Alastair Cooke, Becky Elliott, Chris Evans, Christopher Kusek, Dan Frith, Enrico Signoretti, Justin Warren, Keith Townsend, Ken Nalbone, Matthew Leib, Max Mortillaro, Ray Lucchesi, Stephen Foskett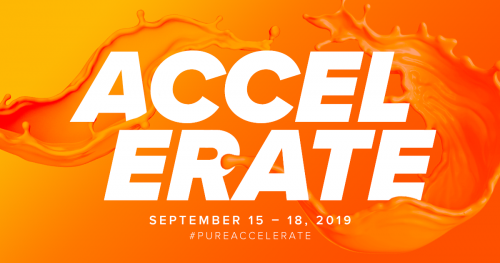 This session will not be live streamed. Recorded video will be posted to this page after this presentation.

Follow on Twitter using the following hashtags or usernames: #PureAccelerate




Watch on YouTube
Watch on Vimeo
Kunal will introduce Pure Storage. He will share a bit about Pure's background, and Pure's vision for unifying cloud infrastructure and delivering a true hybrid cloud experience based on Pure's three key pillars: Build Your Cloud, Run Anywhere and Protect Everywhere
The focus for the first half of the presentation will be the Run Anywhere pillar, providing a deep dive into Pure's Cloud Block store product.
Cloud Block Store delivers industrial-strength reliability for mission critical cloud-based applications, with non-disruptive upgrades, high-availability (HA) across availability zones, and always-on data-at-rest encryption.
Personnel: Kunal Kapoor

Watch on YouTube
Watch on Vimeo
Naveen will provide a deep dive into the architecture for Pure Storage® Cloud Block Store for AWS. He will walk through the design principles and why the architecture we settled on is differentiated that allows PureStorage to provide the same Tier 1 availability, durability and data services to customers looking for a consistent experience on-premise and in the Cloud.
Cloud Block Store provides data portability, and containers are inherently portable for stateless apps. Pure Storage Orchestrator combines these capabilities for stateful containerized applications.
Personnel: Naveen Neelakantam

Watch on YouTube
Watch on Vimeo
Van will do a walk through the available routes to market to procure Cloud Block Store. You will learn the cloud native manner of deploying Cloud Block Store. Managing a Cloud Block Store instance follows the same principle of simplicity, which is part of Pure's DNA.
See the product in action with a few Cloud Block Store demos!!
Personnel: Van Phan

Watch on YouTube
Watch on Vimeo
Mayank Bhatnagar will provide an overview of FlashArray journey and overview of exciting announcements on the FlashArray roadmap
Steve McQuerry will provide a deep dive on how FlashArray with DirectMemory technology is further pushing the performance envelope, by reducing read latency for performance-critical applications through the use of storage class memory on the FlashArray
Personnel: Mayank Bhatnagar, Steve McQuerry

Watch on YouTube
Watch on Vimeo
Pete Kirkpatrick provides a deep dive into our latest addition to the FlashArray product family. FlashArray//C is a capacity optimized, 100% NVMe array, delivering enterprise class data services, cloud mobility, 99.9999% availability for use-cases outside of Tier 1. It shares the same Purity operating environment as FlashArray, equipped with API automation, Pure1 cloud management and AI driven predictive support
Personnel: Pete Kirkpatrick