Join Tech Field Day at NGINX Sprint, September 15-17. 2020! The Field Day delegate panel will be part of Sprint all three days, with a special Field Day Roundtable on September 15, Field Day Demos on September 16, and the Hackathon on September 17!
Live streaming video will be provided on the special NGINX Sprint website all three days of the event. Recordings of the Field Day portions will be posted to the Tech Field Day YouTube channel following the event. Join on Twitter using hashtags #NGINXSprint and #TFDx!
Click here to register for free to join NGINX Sprint!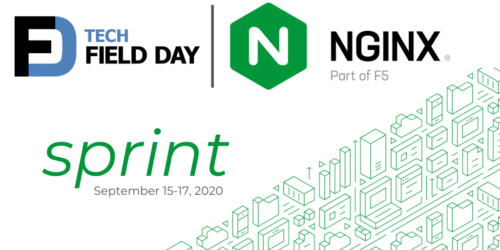 Watch Recorded Video
Presenting Sponsor
Delegate Panel
Delegates are selected by the Field Day Delegate community. For more information on our selection process, please see our page about becoming a Field Day Delegate.
Calvin Hendryx-Parker

AWS Community Hero | Python, Django, Orchestration & Containers | CTO and Founder | IndyPy & IndyAWS | FreeBSD, Linux & ZFS

Christopher Kusek

Technology Evangelist, vExpert, Veeam Vanguard, EMC Elect, BDA, CISSP, MCT, Cloud, Ninja, Vegan, Single, Father, Cat, Humorist, Author

Darrel Clute

IT Infrastructure Engineer and Architect with a strong emphasis on networking and UNIX systems.

Jason Benedicic

Independent Consultant with a passion for all things technical, currently focusing on Cloud, Automation and DevOps. Member of NetApp A-Team, Cisco Champions and vExpert.

Jerod Santo

I make news and podcasts for developers at Changelog.com

Kati Lehmuskoski

DevOps Solution Owner at Metsä

Nick Janetakis

Full stack developer, SRE, writer, video tutorial creator and podcast host who is focused on web development and deployment topics.
Presentation Calendar
Most presentations are streamed live on this page, at TechFieldDay.com, and at some delegate and presenter web sites. After the event, the following pages contain video recordings of these presentations.
Tuesday, Sep 15
10:00-11:00

NGINX Sprint Day 1 Wrap-Up with Tech Field Day
Moderator: Stephen Foskett
Panelists: Calvin Hendryx-Parker, Christopher Kusek, Darrel Clute, Gus Robertson, Jason Benedicic, Jerod Santo, Jon Kuhn, Kati Lehmuskoski, Nick Janetakis, Sidney Rabsatt
Wednesday, Sep 16
8:00-10:30

NGINX Demos with Tech Field Day from Sprint 2020
Presenters: Daniel Edgar, James Jones, Liam Crilly, Libby Meren, Lindsay Shaw, Rick Salsa, Timo Stark, Åsa Persson

Thursday, Sep 17
12:00-13:00

NGINX Sprint 2020 Hackathon Delegate Roundtable
Moderator: Stephen Foskett
Panelists: Calvin Hendryx-Parker, Christopher Kusek, Darrel Clute, Jason Benedicic, Jerod Santo, Kati Lehmuskoski, Nick Janetakis
All dates and times listed are local time in Virtual, US/Pacific.
Event Staff
Alissa Nivens

"Project Princess" at Gestalt IT

Ben Gage

Ben Gage has a professional background which started in logistics and supply chain for manufacturing and agriculture. To subsidize the methodical nature of these fields he started and performs with an original Americana band. With a penchant for the ra …

Claire Chaplais

Claire Chaplais has over 20 years experience in business operations, marketing communication programs, and event management for the high tech industry. She worked for great companies like Wind River Systems, StorageTek, Common Sense Media, and Harris B …

Stephen Foskett

Stephen Foskett is a writer and speaker on enterprise IT topics and organizes the popular Tech Field Day event series.
More Information
If you would like to sponsor or attend these events as a delegate, please contact Stephen Foskett, Gestalt IT Community Organizer, at [email protected] or call +1(508)451-9532.